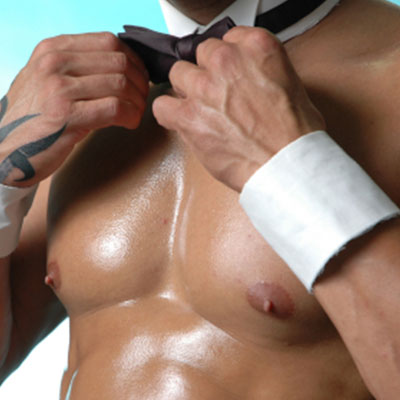 Even now, stripping is considered mainly as a male sort of entertainment. You don't think so? Look at the ratio for female to male strippers – it is 9 to 1! So whether you like it or not, female strippers are seen as more socially acceptable, at least in terms of statistics.
But maybe one of the reasons for that is the fact that a lot of females shy away from hiring male strippers for their parties. While it is seen as an acceptable behavior for men, enjoying the sexy dances of a professional seems a bit to risqué for the girls out there. But this should not be so! In this article we will tell you what you need to know about hiring male strippers, because it is perfectly normal!
When Should Your Hire A Male Stripper?
A lot of girls struggle with this question, because they don't know whether or not it is appropriate to hire a male stripper for their parties. There are a few guidelines that you can check, but the most important one is to figure out a simple question – how casual is the party?
If it is a business party, it may not be as appropriate. But if it is an all-girl birthday party, especially if you want to surprise people, then hiring a professional male stripper is perfectly OK. Keep in mind that these strippers do not need to dance fully exposed, so you can take them as a fairly "conservative" sort of entertainment.
It is quite popular to hire male dancers for bachelorette parties. They can spice up the occasion and will definitely make the mood much hotter. After all, such a party is guaranteed to have ladies who want to have some fun. There is nothing wrong with admiring a good-looking guy, while he performs his dance routine.
Remember that if you want it a bit steamier, you can always go for a fully exposed show, when the guy (or why not multiple guys) will be entertaining you completely nude. This is the ultimate experience and will definitely ruffle some feathers if there are more prudish types around. But that is kind of fun, isn't it?
Hiring vs Going to a Club
We have to address this – some of you may prefer to go to a club and not deal with hiring at all. But this has many drawbacks that you should consider. Firstly, you cannot choose your entertainment. Secondly, you don't get that much of a special treatment. Thirdly, you don't have the freedom to organize the party just the way you want it.
If all of the above doesn't matter to you, then you can surely go to a club and enjoy male strippers there. However, we still advise you to consider hiring them for a private party, as this is a much more memorable thing. So if you want your party to be remembered for years, make it count by hiring a professional male dancer!